How to Choose the Right Catheter

Not all Catheters are the Same
When you're new to catheterisation, it makes sense to know what makes one catheter more right for you than another.
Starting with intermittent self-catheterisation (IC) involves for most people an initial adjustment of the daily routines to the new treatment. IC becomes a part of your everyday life and the catheter you use has to fit in and make it as easy and comfortable as possible for you to go about it. The catheter should be fitted to your needs, and not the other way around! This will make the process of integrating IC into your life much easier.
Checklist when Choosing a Catheter
When you're about to choose your catheter for self-catheterisation you may want to prepare yourself with a couple of questions that you can ask the urology nurse, before you step into the urology clinic. The following checklist can be of use in your meeting.
Safety
Proven long–term safety
Is there clinical evidence to support that the catheter I'm about to use on a frequent (or daily) basis is safe for me in the long term?
Hydrophilic coating for maximum comfort and minimum harm to the urethra during catheterisation
Does the catheter have a hydrophilic coating that stays slippery both at insertion and at withdrawal of the catheter, to protect my urethra and give me the most comfort?
Softness of the catheter
Is the catheter pliable enough to not harm my urethra (and causes for example, trauma or bleeding)?
Efficacy
Tube length (cm./in.), is important for handling and complete bladder emptying in order to avoid infections
Will the length of the catheter make it easy to handle and at the same time ensure complete bladder emptying, which will then reduce the risk of infections?
Tube width (CH/FR), for better emptying
What width catheter should I use?
Handling
Handling aid for a steady grip and non-touch technique (minimised bacterial contamination) when catheterising
Does this catheter offer a handling aid that gives me a good grip for a better and safer handling?
Lifestyle Needs
Fitting into your lifestyle
Will this catheter be easy to integrate into my lifestyle? Is it discreet enough? Can I fold it and put it in my pocket? Does it have a hanging function? Does it have all the things I need (water, collection bag, handling aid, etc.)?
LoFric is a complete solution for short- and long-term bladder management. Based on the unique Urotonic Surface Technology, LoFric enables intermittent catheterisation in a safe and user-friendly way.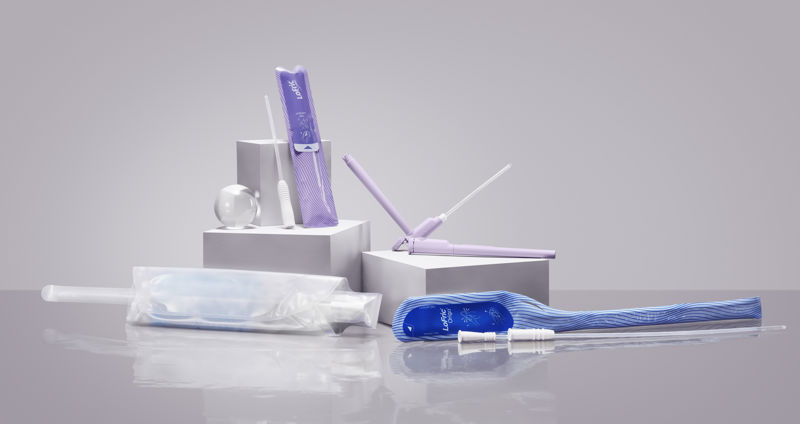 What are the different types of urinary catheters? Here we explain the difference between indwelling catheters, intermittent catheters and hydrophilic vs non-hydrophilic catheters.